1980-2004 Ford F250 Super Duty Front Suspension Lift Kit 4WD | US Patent Pending Front Lift Blocks: 125,000 lbs WLL
Product Number:
A9043 / FDF280FL2000
Description:
Includes 2 High-Strength Steel Front Lift Blocks
Includes 4

Electrostatic Powder Coated

 U-Bolts
Includes complete set of High-Strength Installation Hardware
Simple Instructions for Easy, Do It Yourself Installation!
IMPORTANT: WILL NOT FIT MODELS WITH TWIN TRACTION BEAM SUSPENSION.
Please check out our installation video:
We are proud to introduce our NEW US Patent Pending 5-Bend Single Weld Front Lift Blocks, precision machined from ONE 1/4" thick plate of Steel, 5 times bend and precision welded using heavy-duty GMAW seam and fillet welding processes to ensure maximum strength and a lifetime of dependability under even the most extreme riding conditions. Alignment Pin Holes were milled into the bent structure, providing a 1/32" alignment tolerance between top and bottom holes to ensure stability, perfect fitment and easy installation. To maximize their strength, we reinforced the structure of these blocks with a Double Wall of 1/4" thick plasma cut plates, completely welded to the frame. They have been lab tested to an astonishing load of 125,000 lbs with no yielding or deformation observed!

We've also made sure the extended U-bolts we provide rise to expectation, being ISO 9001 certified and stamped. Choose the right kit the first time, Choose Supreme. Call or message us if you have any questions about our Lift Kits or to place your order today!
NOTES:
• Fits 4WD models only.
• An alignment is always recommended after altering the height of your vehicle.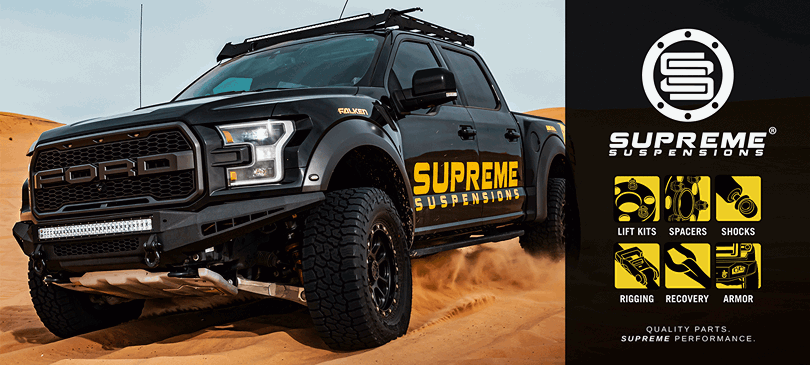 PRODUCT REVIEWS
F250 3" lift blocks
Cheap and easy to install with a little bit of cussing! Don't forget to get an adjustable track bar like I did. Truck handles about the same minus the weight of the 35.5" tires I put on. Looks so much better though!
It works great with the twin traction axel . You just have to get some axel drop down brackets .
I put these on my twin traction control axel and it's great . You have to order the drop down brackets just as if you do the spring lift.