1984-2001 Jeep Cherokee XJ Full Suspension Lift Kit & Transfer Case Drop Kit 4WD 4X4
Description:
Features:
2x Front Lift Spacers
2x Rear Lift Shackles
Transfer Case Drop Kit
Installation instructions
Notes:
✘ Will NOT fit vehicles with welded bump stops.
Jeep Cherokee XJ Suspension Lift Kits increase ground clearance. The extra clearance for the Lifted Jeep Cherokee XJ allows you to install larger tires to gain additional height for better visibility. Larger off-road tires help improve off-road performance. Supreme Suspensions® offers 2" and 3" front and 2" rear Jeep Cherokee XJ lift & leveling options to enhance the clearance, performance, and look of your Jeep Cherokee XJ.
Jeep Cherokee XJ Lift & Leveling Kits
Our Jeep coil spring spacer lift kits for Jeep Cherokee XJ have been specially engineered to be one of the easiest and fastest lift installs on the market. Designed to work with your existing factory components, these spacers install with ease and involve no additional modifications to be made to your suspension. We've also incorporated an integrated raised lip into each spacer to ensure proper spring alignment and prevent slip-outs under harsh suspension angles.
Our lift spacers are constructed from Delrin due to its high crystalline composition to provide superior strength along with enough flex to maintain your stock ride quality. Our kit will not dry up and deteriorate like polyurethane spacers.
Our Rear shackles are made of High Strength Carbon-Steel and cut through a series of computer controlled processes, then coated to prevent oxidation and corrosion, keeping your kit looking great and functioning for years to come. Our kits install easily and does not require any cutting or welding, making them one of the easiest and safest kits on the market. Installation for the whole kit can be completed in 1-2 hours using hand tools. No cutting or welding required and comes with all hardware and installation instructions required.
Taking into consideration the possible driveline angle changes that can occur when lifting your vehicle, we now offer our billet aluminum transfer case drop kit. Misaligned drivetrain components such as drive shafts can cause excessive vibration when traveling at highway speeds, and will also significantly speed up wear by applying extra strain to u-joints and CV joints. These transfer case drop spacers aid in correcting these issues by lowering the transfer case slightly from the factory location. Constructed from the same 6061 aluminum as our Pro-Billet line, these transfer case drop spacers will never compress, crack, or deform under the most rigorous conditions.
NOTE: *An alignment is always recommended after altering the height of your vehicle.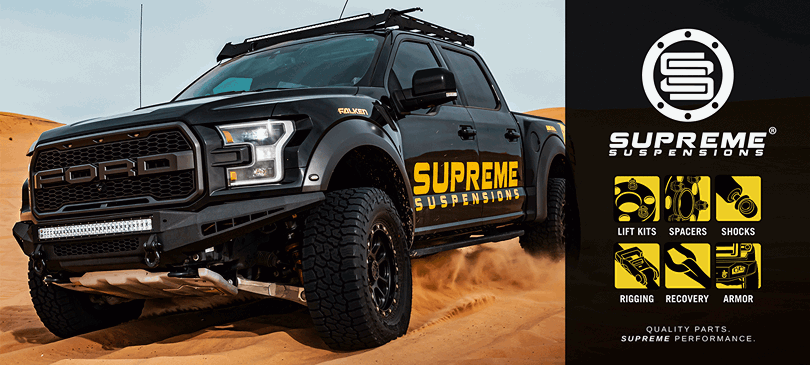 PRODUCT REVIEWS
Excellent Quality
Wanted to add a couple inches to my existing lift. Talked with their techs and aggressive this would work. Shipped extremely quick. All new hardware included. Easy to follow instructions. Love the price, quality, and customer service. Will definitely be a repeat customer.
My new go to company for off road!!
Got the whole kit to add to my existing lift. 2" shackles and 3" pucks. Recommended be their tech to address the normal XJ front dip.
Excellent quality, best warranty, and even better customer service.
I will be using Supreme Suspensions moving forward!
Excellent kit to use as lift or to add to existing lift.
All new hardware, detailed instructions, all shipped together.
I put this kit in my stock 96 XJ, I ...
I put this kit in my stock 96 XJ, I love it so far. I do wish the grease fittings for the shackles were a little bit more reachable, grease them good before you install them.