1987-2004 Dodge Dakota 4WD (9.25" Rear Axle) Full Suspension Lift Kit | INCLUDES SUPREME'S NEW HD STEEL LIFT BLOCKS!
Description:
Features:
2x Cold-Forged Steel MAX-Torsion Keys
2x High-Strength Steel Rear Lift Blocks
4x Heavy-Duty Round Bend U-Bolts
Installation Instructions
Notes:
✔ Will only fit 4WD models equipped with 9.25" rear axle. Please check you rear suspension setup before ordering.
Dodge Dakota Suspension Lift Kits increase ground clearance. The extra clearance for the Lifted Dodge Dakota allows you to install larger tires to gain additional height for better visibility. Larger off-road tires help improve off-road performance. Supreme Suspensions® offers 1"-3" front and 1", 1.5", 2" and 3" rear Dodge Dakota lift & leveling options to enhance the clearance, performance, and look of your Dodge Dakota.
Dodge Dakota Lift & Leveling Kits
Our Max-Torsion Key Lift Kits for Dodge Dakota are engineered with twice the strength of the factory system and precision indexed to lift your truck without sacrificing ride quality. These re-indexed keys install quickly and easily by replacing your factory torsion keys mounted in your truck's crossmember, providing your truck with the perfect lift and level.
To Lift the rear end of your Dakota, we included our New Heavy-Duty Steel Blocks. The 1" Heavy-Duty Steel Blocks are constructed from one solid block of Steel, while the 1.5", 2" and 3" Rear Lift Blocks are precision machined from ONE 1/4" thick plate of Steel, 3 times bend and precision welded using heavy-duty GMAW seam and fillet welding processes to ensure maximum strength and a lifetime of dependability under even the most extreme riding conditions. We've also made sure the extended U-bolts we provide rise to expectation! Supreme Suspensions High-Strength Steel U-Bolts are precision bent & threaded to exact specifications and finished with an Electrostatic Powder Coating to satisfy the highest quality control standards.
NOTES:
✔ Front torsion keys are adjustable anywhere from 1" to 3".
✔ A torsion bar puller (can be rented at most chain auto stores), or 5 ton gear puller is required for install. We also offer this tool with our kits in our other listings.
✔ An alignment is always recommended after altering the height of your vehicle.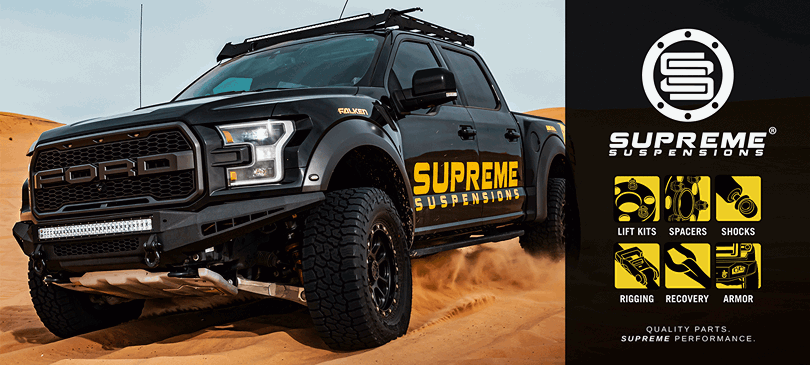 PRODUCT REVIEWS