1995-2021 Toyota Tacoma 4WD 6x139.7 Wheel Spacers (Hub Centric) 108mm Center Bore
Product Number:
A1331 / TYTA95WC0015S
Description:
Features:
Lug Pattern: 6 x 139.7mm
Stud Size: M12 x 1.5
Center Bore: 108mm
Installation instructions
HUB CENTRIC WHEEL SPACERS
Fits: 1995-2021 Toyota Tacoma (4WD ONLY)
Fits: 1995-2020 Toyota Tacoma PreRunner (2WD 6-Lug ONLY)
**Does not fit Dually Models / Will Not Fit Toyota manual locking hub models
Toyota Tacoma Wheel Spacers increase inner wheel clearance. This is important when installing larger off-road tires to prevent rubbing on the fender. Supreme Suspensions® offers 1.5" and 2" Toyota Tacoma 6x139.7 wheel spacer options to enhance the clearance, handling, stability, and look of your Tacoma.
Toyota Tacoma Wheel Spacers
Our Pro-Billet Series wheel spacers for Toyota Tacoma are precision engineered to widen your track-width, improving the look of your vehicle and accommodating wider custom rims and tires. Supreme Suspensions products are developed and rigorously tested by in-house ASE certified specialists, in conjunction with dealerships and professional racers across the United States. Our Pro-Billet Series Wheel Spacers are CNC machined from solid blocks of T6 Aircraft Billet and receive a special anodized coating. Renowned for its sheer strength and light weight, this premium material is guaranteed to withstand even the most extreme environments. Each spacer features splined studs that are pressed into place rather than glued as in many of the lesser, knock-off wheel spacers on the market. Once our spacers are properly installed, they stay installed without the risk of vibrations or imbalance. Please verify fitment compatibility prior to ordering. Your factory wheel studs may need to be shortened to ensure safe fitment of the wheel.
NOTES: An alignment is always recommended after altering the length of your wheel and tires.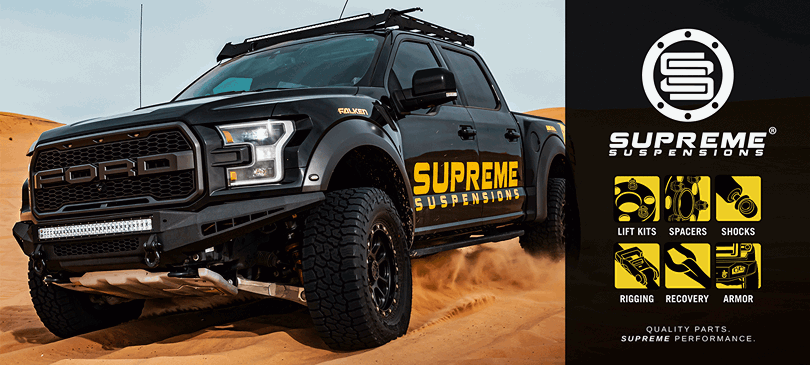 PRODUCT REVIEWS
2007 Tacoma Prerunner w/ Supreme Suspensions 2" Wheel Spacers
I've got a 2007 Tacoma running Supreme Suspensions 2" hubcentric wheel spacers. I'd highly recommend a 1.5" or 2" spacer from these guys if you are on a 0 offset wheel with roughly 4.5" of backspace. Do be aware that choosing an inappropriate spacer may cause you to rub on your fender liner or cab mount. So please do your research beforehand. I chose the SS 2" spacers just to keep the rear wheels from rubbing on my shocks during heavy articulation and they do just that! Beyond function they do add a slight amount of track width which definitely adds some style points on the streets. These spacers are hubcentric which is crucial to preventing wear and tear on your vehicles steering/suspension components . Beyond that it is much safer and I wouldn't recommend a spacer that isn't hub-centric to anybody. I've been running these spacers for several months now and if they were going to fail at any point they would've by now. I consistently put my truck through trials of abuse and these spacers are holding up extremely well. I just spending a week mobbing through Johnson Valley/Plaster City and spacers are solid as a rock. This is not a paid review they have just proven their worth so I thought I'd share.