1998-2011 Ford Ranger Full Suspension Lift Kit & Pro Comp Shocks 4WD
Description:
2x Front Lift Torsion Keys
2x Rear Lift Blocks
4x

Premium Electrostatic Powder Coated

U-Bolts
2x Front Pro Comp Shocks
2x Rear Pro Comp Extended Shocks
Installation instructions
Our Max-Torsion Key Lift Kits are engineered with twice the strength of the factory system and precision indexed to lift your truck without sacrificing ride quality. This kit replaces your factory torsion key and is precision indexed to lift and level your front end any amount from 1" to 3". Our Pro-Billet Series rear lift kits are precision engineered to lift and level your truck. The rear lift blocks are machined from 6061-T6 aircraft aluminum, then an anodized coating is applied to protect from rusting. Unlike steel blocks that are cut-out and welded together, our Pro-Billet kits are machined as a solid piece and will not bend or warp when under high stress loads. We complete this kit with high grade hardware and extended OEM spec U-bolts.
Supreme Suspensions is proud to carry ProComp's upgraded shock series to replace your factory shocks when you install your lift kit. These are top of the line Nitrogen charged struts that are engineered with performance in mind. They are a twin-tube construction with a hardened piston rod vs. the factory single tube construction and contain a 10-stage velocity sensitive valving which provides amazing comfort AND toughness. We guarantee you will notice the difference in performance over your factory shocks.
NOTES:
*Front torsion keys are adjustable anywhere from 1" to 3". A torsion bar puller (can be rented at most chain auto stores), or 5 ton gear puller is required for install. An alignment is always recommended after altering the height of your vehicle.
**Some models may require modification/grinding due to smaller factory key retaining plate
*Shocks may ship in a separate package if ordered with a lift kit and may arrive before or after the lift kit.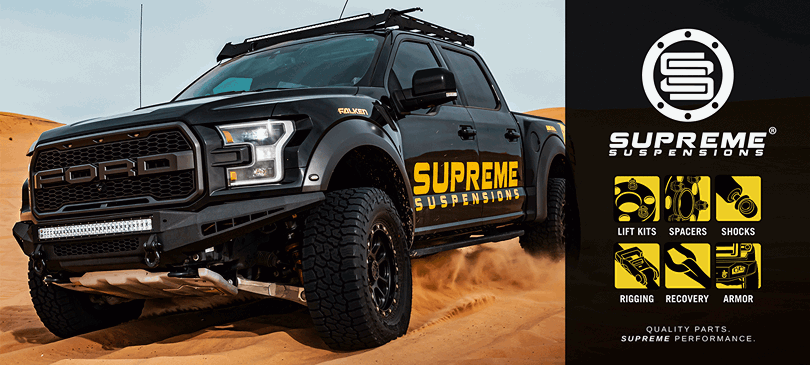 PRODUCT REVIEWS