1999-2007 GMC Sierra 1500 4WD Full Suspension Lift Kit with MAX Performance Shocks
Description:
2x Front Adjustable Cold-Rolled Steel MAX-Torsion Keys
2x High-Strength Steel Rear Tapered Lift Blocks
4x Premium Electrostatic Powder Coated U-Bolts
4x Suspensions Branded MAX Performance Shocks
4x Premium Silicone Blend Shock Boots
Installation Hardware and Instructions
Notes:
✔ Compatible only with 4WD / 6-Lug Models and 2007 Classic Model.
✘ THIS KIT WILL NOT WORK WITH REAR OVERLOAD SPRINGS OR DUALLY MODELS, AS LONGER U-BOLTS ARE REQUIRED. 
We are proud to introduce our own Supreme Suspensions branded line of shock absorbers designed to better accommodate our lift kit and provide improved suspension travel and comfort. Supreme Suspensions Nitrogen Gas Charged Shocks are engineered for driving enthusiasts who command maximum performance, in the most demanding conditions. A self-compensating heavy-duty nylon-banded full displacement piston and double-welded mounts ensure maximum strength and durability for any type of operation, on or off-road, loaded or unloaded, hauling or cruising, our shock absorbers will instantly react to changing road inputs to maximize ride stability, comfort and control.
Supreme Suspensions MAX-Torsion Keys are precision engineered from forged and cold-rolled High-Strength Steel, TWICE the strength of the factory system. These re-indexed keys install quickly and easily by replacing your factory torsion keys mounted in your truck's crossmember, providing your truck with the perfect lift and level. For lifting the rear end of your pickup truck we included our US Patent Pending 3-Bend Single Weld Rear Lift Blocks precision machined from ONE 1/4" thick plate of Steel, 3 times bend and precision welded using heavy-duty GMAW seam and fillet welding processes. To maximize their strength, we reinforced the structure of these blocks with a 1/4" thick CNC plasma cut center support structure and finished them with a resistant black powder coat to prevent oxidation and rust. These blocks can withstand an astonishing load of almost 60,000 lbs with no yielding or deformation observed!
We've also made sure the extended U-bolts we provide rise to expectation, being ISO 9001 certified and stamped. 
NOTES: Front torsion keys are adjustable anywhere from 1" to 3". A torsion bar puller  or 5 ton gear puller is required for install. We also offer this tool with our kits in our other listings. An alignment is always recommended after altering the height of your vehicle.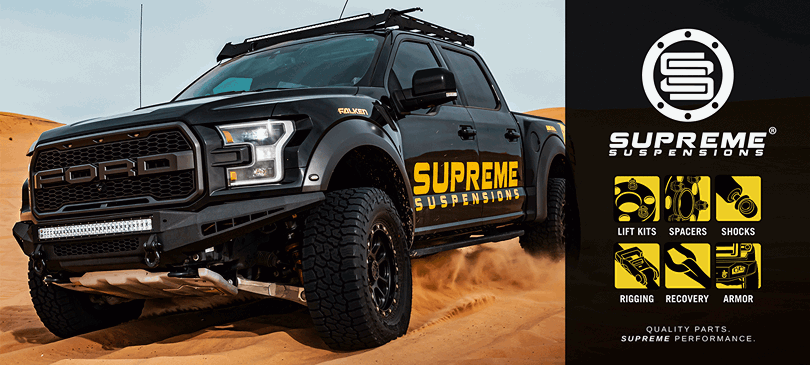 PRODUCT REVIEWS