1993-1998 Jeep Grand Cherokee ZJ Front Lift Spacers with Lower Control Arms & Supreme Suspensions MAX Performance Shocks 2WD 4WD
Description:
Features:
2x High-Density Delrin Front Lift Spacers
2x 0-8" Adjustable Front Lower Control Arms
4x Supreme Suspensions MAX Performance Shocks
4x Premium Silicone Blend Shock Boots
Installation Hardware
Jeep Grand Cherokee ZJ Suspension Lift Kits increase ground clearance. The extra clearance for the Lifted Jeep Grand Cherokee ZJ allows you to install larger tires to gain additional height for better visibility. Larger off-road tires help improve off-road performance. Supreme Suspensions® offers 2" and 3" Jeep Grand Cherokee ZJ lift & leveling options to enhance the clearance, performance, and look of your Jeep Grand Cherokee ZJ.
Jeep Grand Cherokee ZJ Lift & Leveling Kits
We are proud to introduce our own Supreme Suspensions branded line of shock absorbers for Jeep Grand Cherokee ZJ designed to better accommodate our lift kit and provide improved suspension travel and comfort. Supreme Suspensions Nitrogen Gas Charged Shocks are engineered for driving enthusiasts who command maximum performance, in the most demanding conditions. A self-compensating heavy-duty nylon-banded full displacement piston and double-welded mounts ensure maximum strength and durability for any type of operation. On or off-road, loaded or unloaded, hauling or cruising, our shock absorbers will instantly react to changing road inputs to maximize ride stability, comfort and control.
Our Delrin Lift Kits for Grand Cherokee ZJ are meticulously engineered and precision CNC machined from High-Density Delrin, for superior durability and corrosion resistance. Delrin has the highest tensile strength of any thermoplastic and is the best material available for heavy duty applications, while still being light-weight and resistant to typical corrosion associated with off-roading.
To further improve your ride quality and comfort we included one set of Lower Control Arms engineered to compensate front axle pinion angle on lifted vehicles, eliminating unwanted vibration and death wobble that happens from a worn and overused suspension. Our LCA are built from Heavy Duty Tubular Steel to withstand any on or off-road conditions and pre-loaded with Greaseable Zerk Fitted High Density Polyurethane Bushings for quiet operation, increased longevity and decreased road vibration.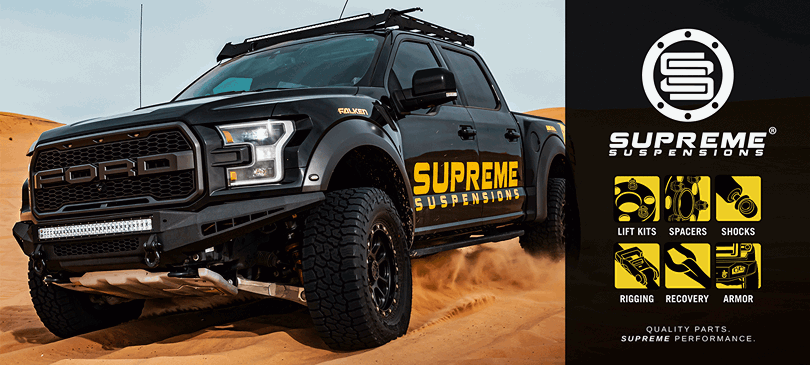 PRODUCT REVIEWS