2006-2008 Dodge Ram 1500 Mega Cab Rear Steel Bump Stop Relocation Spacer Kit 4WD
Description:
Prevents Rear Coil Springs from binding from excess compression
Prevents Leaf Spring Pack from going into negative arch
Prevents potential shock damage from bottoming out
Manufactured from Heavy Duty .188" Steel for maximum compression resistance
Proprietary Corrosion Resistant Textured Powder Coat finish
Designed to work best with Rear Lifts from 2" to 4"
Includes all necessary High-Strength Installation Hardware
Simple Instructions for Easy, Do It Yourself Installation
Lifetime Warranty!
Supreme Suspensions has the best products with the best prices. We believe in Safety and Standards in both machining and manufacturing. Unlike our competitors who offer you low prices for inferior products, we build products that lift and level your vehicle without compromise. Cutting corners is awesome when driving your truck, but not when manufacturing, buy right, choose Supreme.
Supreme Suspensions Bump Stop Relocation Spacers have been engineered to prevent damage to rear springs and shock absorbers on Lifted applications. Our Rear Bump Stop Spacers are made of High Strength Steel and cut through a series of computer controlled processes, then powder coated in a textured black finish to prevent oxidation and corrosion, keeping your kit looking great and functioning for years to come. Our kits install easily and do not require any cutting or welding, making them one of the easiest and safest kits on the market. Completely bolt-on, installation can be completed in less than 1 hour using basic hand tools. Kit comes with all hardware and installation instructions included. Choose the right kit the first time, Choose Supreme. Message us if you have any questions about our product or place your order today!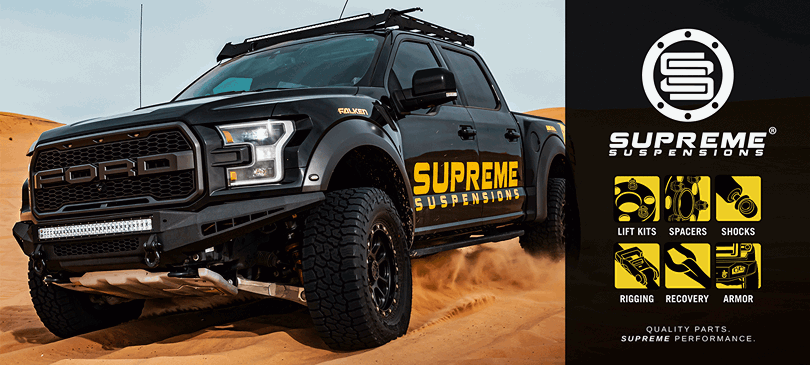 PRODUCT REVIEWS