2009-2020 Dodge Ram 1500 Full Billet Suspension Lift Kit 4WD
Description:
Features:
2x Front Billet Strut Spacers
2x Rear Billet Lift Spacers
Installation instructions

MPORTANT: TRX Model will NOT fit 3" or 3.5" front spaces
Dodge Ram 1500 Suspension Lift Kits increase ground clearance. The extra clearance for the Lifted Dodge Ram 1500 allows you to install larger tires to gain additional height for better visibility. Larger off-road tires help improve off-road performance. Supreme Suspensions® offers 2", 3", and 3.5" front and 1.5", 2", or 3" rear Dodge Ram 1500 lift & leveling options to enhance the clearance, performance, and look of your Dodge Ram 1500.
Dodge Ram 1500 Lift & Leveling Kits
Our Pro-Billet series strut spacer lift kits for Ram 1500 are precision engineered from 6061-T6 aircraft aluminum, then anodized for a superior finish. Billet aluminum is a great material for use in suspension applications as it has an immensely high strength to weight ratio along with a superior level of corrosion resistance compared to many other metals on the market. Unlike steel kits that are cut-out and welded together, our Pro-Billet kits are machined from a solid piece and will not bend or warp under even the most stressful conditions. Our Supreme rear coil spacers are precision engineered to lift and level your truck with ease. Rear spacers from our proven Pro-Billet series are will not dry up and deteriorate, or squeak like polyurethane spacers over time and are proven to stand up to even the toughest road conditions..
NOTES: Fits 4WD models only. An alignment is always recommended after altering the height of your vehicle.
Does Not Fit Mega Cab Models / Rebel Models / Warlock Models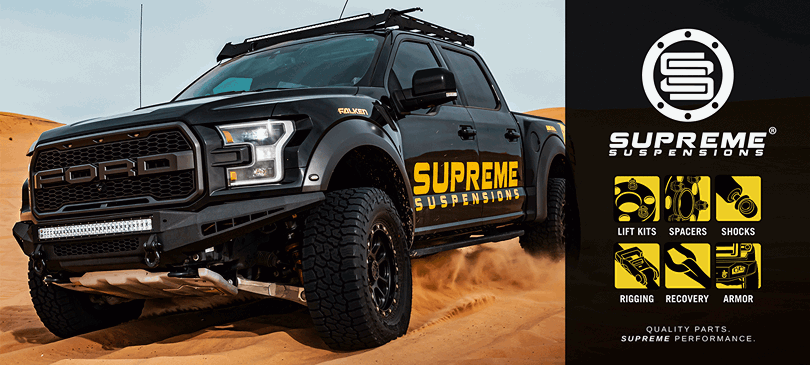 PRODUCT REVIEWS