2011-2014 Polaris RZR 900 Full 3-5" Suspension Lift Kit
Product Number:
A7789 / PORZ11FK2020
Description:
Includes 4 Piece Front Bracket Set
Includes 4 Piece Rear Bracket Set
Includes complete set of High-Strength Installation Hardware.
Precision Plasma Cut for Perfect fitment and Outstanding Performance.
3 Step MAX Corrosion Resistance Processing (Sand Blast, Zinc Coat, then Powder Coat).
Increases ground clearance and provides a firmer, more responsive suspension.
Install Larger Tires!
Up to 5" of Lift can be achieved by adjusting OEM Shock Preload Settings.
Supreme Suspensions has the best products with the best prices. We believe in Safety and Standards in both machining and manufacturing. Unlike our competitors who offer you low prices for inferior products, we build products that lift and level your vehicle without compromise. Cutting corners is awesome when driving your Quad, but not when manufacturing, buy right for your ROV, ATV, or UTV, choose Supreme.
Increase the ground clearance on your RZR and make room for bigger tires for true all terrain capabilities with Supreme Suspension's Full Lift Kit. Developed and rigorously tested by in-house ASE certified specialists, this lift kit is made completely out of steel components and designed by the experts with your OEM ride quality and comfort in mind as well as lifetime use. Our easy install kit bolts right on and requires no cutting or grinding. By moving the shock mounts we've made room for larger tires while providing a firmer, more responsive suspension. The parts are sand blasted, then Zinc coated, and finally powder coated for maximum corrosion resistance.
NOTES: An alignment is always recommended after altering the height of your vehicle.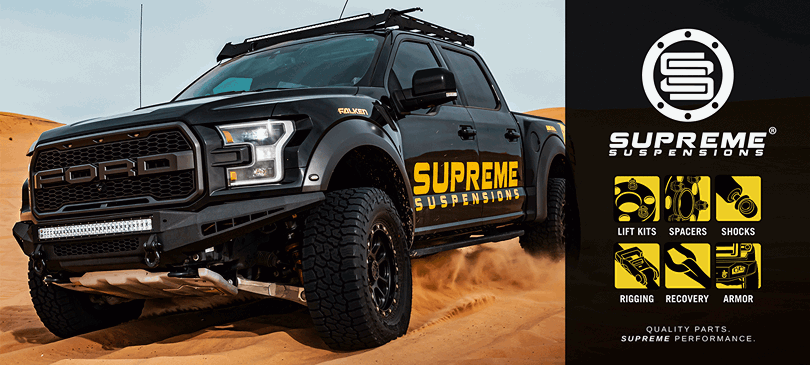 PRODUCT REVIEWS
Where can I download installation instructions for this lift kit
Where can I download installation instructions for this lift kit