2000-2006 GMC Yukon 1500 Full Suspension Lift Kit with MAX Performance Shock Absorbers 2WD 4WD / 6-LUG | Torsion Tool Included
Description:
2x Adjustable Cold-Rolled Steel MAX-Torsion Keys
2x High-Density Delrin Coil Spring Spacers
4x Supreme Suspensions MAX Performance Shocks
4x Premium Silicone Blend Shock Boots
1x Torsion Bar Unloading Tool
Installation Hardware and Instructions
✔ Compatible with 6-Lug Model Only.
Supreme Suspensions MAX-Torsion Keys are precision engineered from forged and cold-rolled High-Strength Steel, TWICE the strength of the factory system. These re-indexed keys install quickly and easily by replacing your factory torsion keys mounted in your truck's crossmember, providing your truck with the perfect lift and level. For lifting the rear end of your GM SUV we included two Coil Spring Spacers precision CNC machined from High-Density Delrin to ensure an exact fit for your vehicle. These Delrin parts are engineered to offer high stiffness, low friction, and excellent dimensional stability, being rated with a compressive strength of 16,000 psi.
We are proud to introduce our own Supreme Suspensions branded line of shock absorbers designed to better accommodate our lift kit and provide improved suspension travel and comfort. Supreme Suspensions Nitrogen Gas Charged Shocks are engineered for driving enthusiasts who command maximum performance, in the most demanding conditions. A self-compensating heavy-duty nylon-banded full displacement piston and double-welded mounts ensure maximum strength and durability for any type of operation. On or off-road, loaded or unloaded, hauling or cruising, our shock absorbers will instantly react to changing road inputs to maximize ride stability, comfort and control.
If you're looking to level the stance of your truck, fit larger wheels and tires or pick up some ground clearance out on the trails, we have a kit tailored specifically to your truck and your needs.
Notes:
*For a safe & easy installation we included our U-Shaped Torsion Max Tool that covers both sides of the cross member firmly to distribute load evenly. We also recommend using a Coil Spring Compressor for easy removal and reinstallation of your coil springs.
*An alignment is always recommended after altering the height of your vehicle.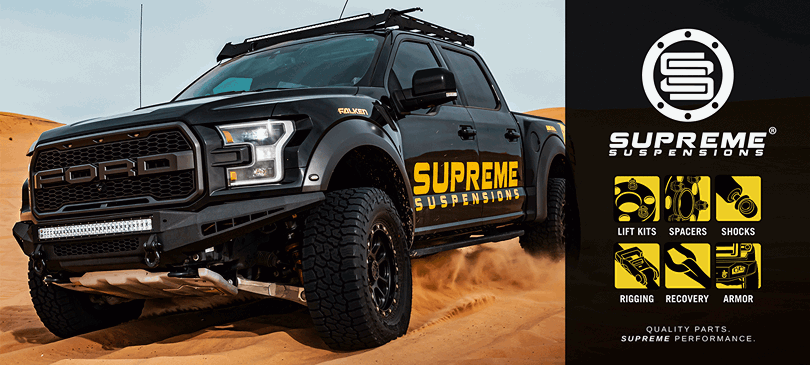 PRODUCT REVIEWS