Supreme Suspensions® Universal Multi-Function Hitch Receiver Skid Plate with 3/4" D-Ring Shackle
Product Number:
A9199 / UNVHITBPLATE
Description:
Universal fit for any vehicle with a 2" hitch receiver
1/4" A36 Steel Construction with Internal Gussets for increased itrength.
Proprietary 3-stage electrostatic finishing process increases corrosion resistance, and is easily matched for touch-up.
Over 13" of coverage at the widest point, with more than 115 in² of total coverage.
High-Strength .250" Wall Seamless PTR Hitch Shank with CNC machined pin holes for proper fitment, designed for 5/8" hitch pins.
Adjustable Depth Hitch Pin Holes allow for maximum clearance tailored to your vehicle.
Integrated Top-Plate functions as a step or as a mounting surface for rear facing auxiliary lights.
Replaceable High-Density Polyurethane pad dampens impacts with obstacles, and reduces friction against the obstacle lessening the possibility of damaging trail features.
Heavy-Duty 1" Through-mounted Shackle Anchor Point machine GMAW welded to both the hitch and plate assembly for greatest load bearing capacity.
Complete your Recovery Gear Kit and protect your vehicle's hitch, trailer wiring and rear bumper with Supreme Suspensions' NEW Heavy-Duty Forged Steel Hitch Receiver Skid Plate. This Skid Plate incorporates an OEM fit to your existing hitch receiver while providing protection to the rear of your truck when not towing, and prevents hang-ups on obstacles with steep departure angles, or high inclination angles.
We've also made sure to match this Skid Plate with our Heavy-Duty Forged Steel 3/4" D-Ring Shackle, a must-have off-road accessory, perfect for temporary connections of straps, snatch blocks, and pulleys for safe and efficient vehicle recovery.
Shackle Safe Working Load 10,450 lbs, Max Break Strength 41,850 lbs.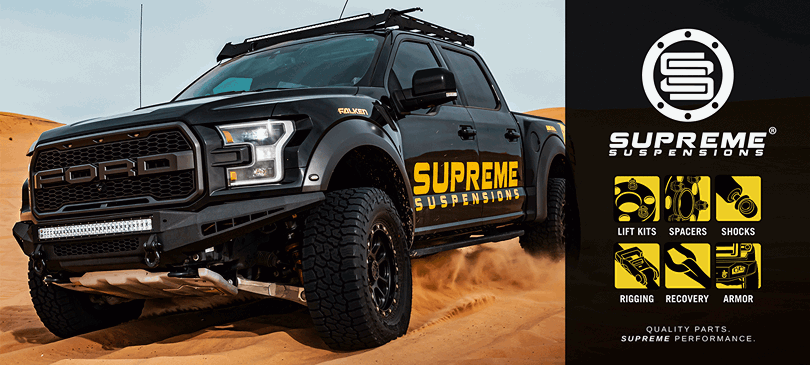 PRODUCT REVIEWS
My Beast of the East
Hitch Receiver Skid Plate & Shackle on a 2021 GMC AT4. The concrete jungles of the North East are Man Made Terrains!
Skid Plate
Great piece. Fit perfect and looks amazing. Perfect fit and great addition to my vehicle.
Supreme Suspensions Hitch Skid Plate with D ring
This product is heavy duty! Looks great - clean welds and thick powder coating.
Great concept just missed the mark on a couple of things for me. I wish it would have been a solid tube, the plate a little wider to protect my trailer plug, and the mount for the shackle been rounded to accept a soft shackle