4x110 Wheel Spacers + Tire Valve Caps for SUZUKI Models
Description:
Features:
4x Universal Tire Valve Caps
Billet Wheel Spacers

Installation Hardware

CNC Machined from Light-Weight T6 Billet Aluminum

0.67" Tall, 0.47" Outer Diameter, Upper 45 Degree Chamfered Edge Valve.
Lug Centric Design, 4 x 110mm Bolt Pattern and 74.1mm Center Bore
(M10 x 1.25) High-Strength HD Spec Spline Type Wheel Studs
Rust & Water-Resistant Plastic Valve Protection

Installation Instructions
Supreme Suspensions® Wheel Spacers increase inner wheel clearance. This is important when installing larger off-road tires to prevent rubbing on the fender. Supreme Suspensions® offers 1.5" and 2" Suzuki King Quad wheel spacer options to enhance the clearance, handling, stability, and look of your Suzuki King Quad.
Supreme Suspensions® Suzuki King Quad Wheel Spacers
Our Pro-Billet Series Wheel Spacers for Suzuki King Quad are precision engineered to widen your track-width, improving the look of your vehicle and accommodating wider custom rims and tires. These Wheel Spacers are CNC Machined from solid blocks of T6 Aircraft Billet and receive a proprietary protective coating for maximum protection against oxidation and corrosion, ensuring a lifetime of dependability under even the most extreme riding conditions. Renowned for its sheer strength and light weight, this premium material is guaranteed to withstand even the most extreme environments. Each spacer features Hydraulic Pre-Pressed studs which will never back out or strip from vibrations or repeated installations, and Heavy Duty Low-Profile Acorn Nuts to seat and center the spacer to your original studs. Once our spacers are properly installed, they stay installed without the risk of vibrations or imbalance. We completed this kit with 4 Premium Tire Valve Caps precision CNC Machined from light-weight T6 Billet Aluminum and fitted with rust & water-resistant plastic valve protection to prevent corrosion & chemical damage. These Tire Stem caps will provide air tight seal to prevent air-leakage & ensure stable tire pressure.
Fitment: 2008 - 2013 SUZUKI KING QUAD 400
2007 - 2009 SUZUKI KING QUAD 450
2009 - 2013 SUZUKI KING QUAD 500
2005 - 2007 SUZUKI KING QUAD 700
2008 - 2014 SUZUKI KING QUAD 750
*Does not fit Dually Models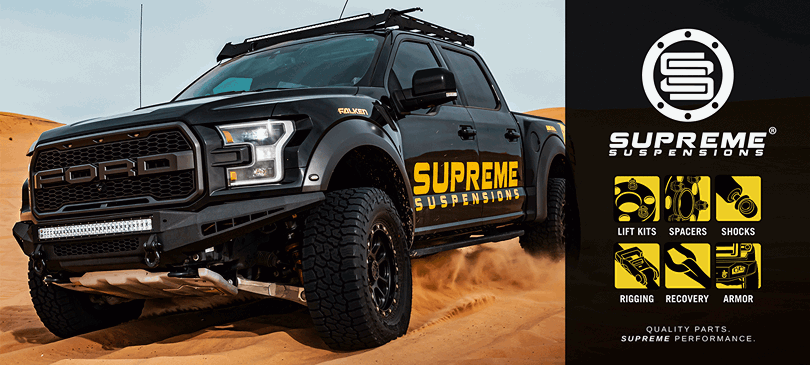 PRODUCT REVIEWS